8 Facts About Bakers
When you step in a bakery it can be a magical experience. Breads come in all shapes and sizes and they are just as diverse as the people that make them. Some bakers specialize in making bread while other work with a variety of different baked goods.
Sometimes mistaken for pastry chefs, bakers typically work in the early hours of the morning preparing dough's and other wonderful treats. So keep reading because this week FoodGrads is diving into this hands on profession.
1.  Bakers are responsible for making baked goods
Bakers are individuals responsible for:
Making a variety of baked goods which might include breads and pastries. They are responsible for following recipes, measuring and mixing ingredients and baking items. Bakers work with various kinds of equipment which include ovens and mixers. This profession is quite physical as they knead, roll, cut and shape dough while moving ingredients around the facility. Finally, depending on the establishment they work in some bakers may be responsible for serving customers and taking orders.
2. Retail Bakers work in a variety of environments
Bakers can generally be classified into two types of bakers:
Retail Bakers– These bakers are the ones that you are more likely familiar with. Retail bakers work primarily in grocery stores, bakeries, artisanal stores. The main point differentiation is that these bakers generally work in smaller qualities, keeping the store well stocked. Sometimes they work behind the counter taking orders from customers.
Commercial Baker– These bakers differ from retail  bakers because they work in manufacturing facilities that produce breads and pastries in high yields. When you walk into their work environment you can expect to see high-volume mixers and large oven. As well, they often operate large, automated machines such as commercial mixers, ovens and conveyors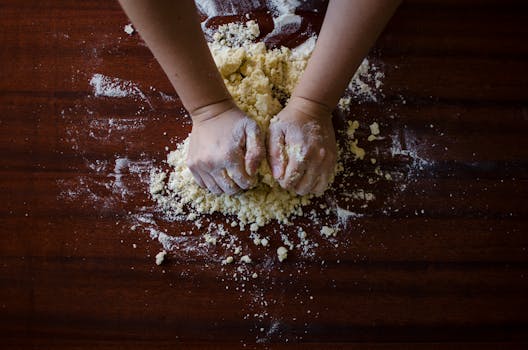 3. Retail bakers work on strict deadlines
If you talk to any baker they will likely tell you that baking is a science. Baked goods are highly time sensitive and if you leave a bread in the oven a few minutes longer than it should this could mean burning. In order to meet the demands of the customers bakers must follow production schedules. Typically, bakeries have a set amount of product they have to produce by a certain time. Over all, bakers have to have good time-management skills.
4. Retail bakers stand on their feet all day
The majority of a bakers' job takes place on their feet. Bakers need to be comfortable transferring dough from mixing bowls to work surfaces. As well, they be able to lift and carry heavy bags of flour and other ingredients which could weigh up to 50 pounds. They clean their work stations, mix ingredients  and transfer baked goods to oven.
As you can imagine this is all very physical!
5. Retail bakers have this education
No formal education is required to become a baker, however some places of work may have special requirements. This is because baking is a unique profession that is more reliant on work experience than education.
However, an associate's degree or a certificate can be extremely useful for becoming a baker. Formal training provides professionals with a solid foundation that can be used for their careers. There are many schools that offer baking degrees across the country. For example, the Culinary Institute of America offers certificate, associate's degree, and bachelor's degree programs in culinary arts, baking and pastry arts, and wine and beverages.
Bakers can also seek to become fully certified bakers. According to Baking Association of Canada the requirements to be a Certified Baking Specialist are:
A minimum of 5 years acceptable industry experience (must include extensive hands on work in the preparation and production of a FULL range of bakery products – breads, cakes, pastries).
Successful completion of recognized provincial apprenticeship or equivalent from another country OR Successful completion of BAC course, Bakery Technology, Units I, II, and III.
Successful completion of the following BAC correspondence courses: Food Hazard Control; Occupational Health & Safety; Operating A Successful Bakery OR Documented equivalent training/experience.
6. Bakers are Methodical
Baking is quite different than cooking in that you have to follow a certain sequence of steps. If you add eggs during the wrong step than the whole recipe is ruined. Bakers are methodical, understand processes and know exactly how long each step takes. As a result, they are able to draw up production schedules in order to ensure quality of products meets established standards.
7. Bakers start their days early!

Most bakers work in retail or commercial bakeries (manufacturing facilities), grocery stores or wholesale club stores, and restaurants. Many bakers are required to work on the weekends and evenings. However, it is typical to find bakers starting work in  hours the early morning (4:00am) in order to prepare for the required inventory of the day.
8. Bakers have these set of skills

Math Skill– Although this job is quite physical there is also a lot of mental work that goes into the profession. Bakers must possess basic math skills, especially fractions in order to mix recipes, weigh ingredients, or adjust mixes.
Attention to Detail– Bakers need to have a keen eye for detail because baking is a science. Every ingredient needs to be properly weighed and they need to be precise with how long each item is in the over. Furthermore, many baked goods a intricately decorated so bakers need to ensure that every treat looks amazing to eat.
Time-management- These professionals know exactly how long each task takes and plan their time well in advance. Bakers set a realistic framework of their day and methodically go from task to task.
---
Subscribe to our newsletter for details on mentorship sessions, workshops, webinars, as well as career and job fairs across Canada and the US!