8 Facts About Sous-Chefs
The term sous-chef comes from the French word meaning under which makes sense because sous-chefs work directly beneath Executive Chefs in the kitchen. Despite being a tier under executive chef, the position of 'sous chef' is the most sought-after position in the culinary world.
These professionals receive great recognition among peers and clients due the amount of responsibility in this role.
Sous chefs are a common profession in the food and beverage industry but
how much do you really know about them?
1. Sous-Chefs oversee the kitchen
Sous-chefs are professionals responsible for:
taking charge of the kitchen and overseeing the kitchen staff. They are familiar with all aspects of a kitchen that way they can hop on to any job at a moments notice. Sous-chefs know how to cook and prepare every style of cooking in their establishment. Furthermore, these professionals make sure that the kitchen is up to safety standards, and that staff are working with a high degree of quality. Many times, these professionals will perform meal planning making sure that staff are mindful of the cost standards that come with food. Finally, sous-chefs often work long and difficult hours due to the constructs of the restaurant business.
2. Sous-Chefs are creative
Successful sous-chefs are creative because they need to develop and prepare innovative recipes
relevant in today's constantly changing culinary scene. Sous-chefs constantly attend farmers markets, read cookbooks, attend culinary events (ex. Restaurant Canada's show) and keep up with chef news for places of inspiration. However, some souschefs do pride themselves in their ability to cook well-established dishes making creativity less of a priority.
3. Sous-Chefs have this education
One of the simplest ways in theory to become a sous-chef is to work your way up the culinary ladder. Some individuals start as dishwashers or prep cooks and over time gain more experience in the industry. With hard work and determination, they are able to become sous-chefs though training at every stage and station. It is important to build relationships as this help you in your journey.
However, one way to help accelerate your career is by attending culinary school as this will teach you the fundamentals of the kitchen. Colleges like George Brown College offer a multitude of culinary and baking arts programs such as:
• Culinary Skills
• Cake Decorating
• Kitchen Operations Management
Check our interview with about Balancing management with culinary skills with George Brown's Honours Bachelor of Commerce Program (Culinary Management) with Chefs Warren Ford and Riley Bennet
4. Sous-Chefs may train staff
Sous-chefs run the day-to-day operations of restaurants, so it is not uncommon for them train the staff. These professionals know the ropes of the restaurant providing tips and tricks for the chefs to transition well into the team.
5. Sous chefs work all different hours
Sous chefs can be found in a large array of restaurants each with their own hours of functioning. These professionals' schedules vary in accordance to the hours in which the kitchen is open. Some restaurants open in the early hours of the morning (when breakfast is served) to late night (when last
clients finish their dinner).
6. Sous-Chefs make sure that day to day kitchen operations run smoothly
There are a lot of moving parts in a professional kitchen meaning there are a lot of different people doing different things. Sous-chefs can bring all these parts together and while creating an ideal "work-flow." Finally, they can identify staff members who blend well into this culture and "let go" of individuals who do not.
Related: 10 Steps: Crossing Over from Chef to Product Developer
7. Sous- Chefs are disciplined
If you talk to any professional chef who has worked long enough in a kitchen, they will tell you that the restaurant business is not forgiving. Sous chefs tend to work long hours with little or no recognition. However, it is a rewarding career if you truly love working in the kitchen, cooking delicious dishes and feeding people.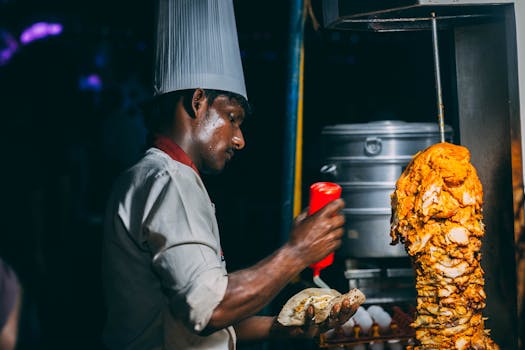 8. Sous-Chefs have these set of skills
Although the personalities of sous-chefs will vary from person to person there are a certain set of core skills they need to possess.
Communication skills- It is important that chefs can properly able to communicate their instructions clearly and effectively so that staff can prepare customer orders correctly. If they are unable communicate efficiently this could mean the demise of a dinner service.
Leadership skills- Sous chefs must have the ability to motivate kitchen staff and develop constructive and cooperative working relationships with them. They are in-tune with every staff member they work with knowing how to bring out the strengths in everyone.
Physical stamina – Chefs and head cooks often work long shifts and sometimes spend entire evenings on their feet, overseeing the preparation and serving of meals. This is a difficult profession for individuals to enter when they are unable to stand in a kitchen for hours on end.
Author: Veronica Hislop Veronica is a recent FoodGrad working as Quality Assurance Technician at a snack food company. She graduated with a Chemistry degree at Ryerson University and has a passion for bringing awareness to sustainability in the food industry. When Veronica is taking a break from her food endeavors you will find her at home reading a great novel and playing with her cats.
---