Career Paths in Food & Beverage
Do you want to learn about the exciting and vast opportunities in food, beverage and hospitality industries?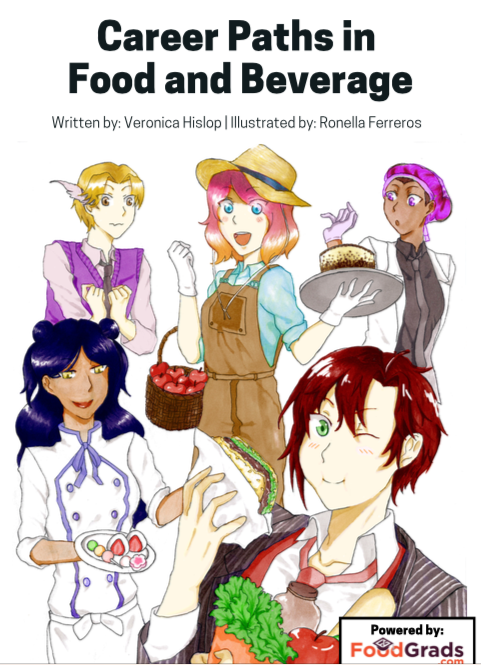 If you're reading this, you must be curious about careers in the food & beverage industry. You've come to the right place!
FoodGrads mission is to spread awareness about the AWESOME people and professions in this industry!
We realize it can be hard to know what you want to do when you graduate high school. How can you decide on something so big when even choosing what you want for lunch is difficult?
Well we can't help you decide what you want to eat. However, we can give you a completely free resource which will help you to learn about the people who helped to get the food on your plate!
The FoodGrads E-Book Career Paths in Food and Beverage, explains 50 career paths in the food processing and food service industry.
Here's what you'll find within the book's 100+ pages:
Career Profiles Learn about careers you never knew existed and what they do on a daily basis.
Education What education do you need to get these careers.
Skills Every profile covers the three most important skills you need to excel at these careers.
Videos, podcasts and articles – Reading careers can be boring. We made sure to include resources so you can hear from the people directly who live their jobs.
Resources Resources to help kick start your job search.
Awesome art- Ronella our chief artist drew amazing art for the book. We just had to mention that 🙂
Veronica (our first Food Campus Ambassador!) wrote this book because she knew how difficult it was to get information about careers in this industry when she was a student.
Many career profiles are based on her first-hand experiences in the industry. So, she knows the facts!
Veronica worked incredibly hard on this book and would love to hear what you think of it. This book is meant for students–so we always want to know the information which is most important to YOU!
If you have any comments, suggestions shoot an email over at: