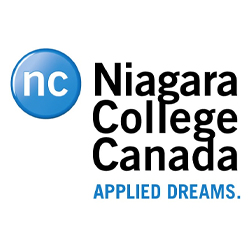 About us
Located in the Heart of the Niagara Region - just minutes from one of the world's most well-known tourism destinations - Niagara College offers more than 130 innovative programs between our state-of-the-art campuses in Welland and Niagara-on-the-Lake.
Within our Culinary, Tourism and Beverage Studies Division, there are numerous opportunities to get into FoodGrads jobs! Niagara College covers the food value chain, with programs in Innovation and Food Technology, Brewing, Distilling and Winemaking which can allow you to explore the manufacturing side of food and beverage. Then there are our Baking and Culinary Programs which can launch you into food service and restaurant careers.
Niagara College is the leading innovator in Learning Enterprises, with on-campus businesses in beer, wine, distilling and greenhouse where you can hone your business and entrepreneurship skills. You can get involved in the operations of these businesses as part of your learning journey.
Niagara College is one of Canada's top Research Colleges, with a strong food and beverage research program. You might just get involved in our research programs to innovate and accelerate with industry partners on your learning journey.
Reach out to our recruiting team to learn how you could be a Niagara College FoodGrad!
https://www.niagaracollege.ca/explore/studentrecruitment/
Programs & Courses