My Fantastic Experience with the PMCA Student Outreach Program
During my last year of Ryerson I was heavily involved in studying cocoa butter for my undergraduate thesis. The lab which I worked with primarily focused on fats but there was a lot of variety and much of the research could be applied to the confectionery industry.
That was where I learned about PMCA and their Student Outreach Program. Today I want to give you a break down about one of my most memorable experiences of my entire university career, how you can get involved and why you really should.
Before I get into the experience I must start by talking about PMCA and what it is.
What is PMCA?
The Professional Manufacturing Confectioners Association (PMCA) is an international association that supports confectionery and snack professionals through inspired learning and the building of long-term personal connections which empower members to create products that bring people joy. They follow a three-fold mission to promote the long-term success of the confectionery industry by:
Providing interactive forums for the open exchange of information
Promoting and directing basic and applied scientific research
Educating and training current and future confectionery technical and manufacturing personnel
What is the PMCA Student Outreach Program?
The PMCA Student Outreach Program is an ongoing program that helps to foster the participation of talented young leaders in the affairs of the association and the confectionery industry. One of the key highlights of the program is the attendance of the annual PMCA Production Conference. A 2 ½ day conference in which students participate in various student-oriented events, attend technical meetings and an industry supplier show and network with industry professionals.
How do I become apart of this program?
You must be saying why has she not even talked about the experience yet? I promise I will get to it, but it is important I cover this other information first as it leads to why the experience was so pleasant.
To become apart of the student outreach program, you have to put in an application which can be found here. The application involves answering questions such as:
How something you have learned through either your course work, research or work/life experience would be essential for your success in the confectionery and snack industry
What is your favourite candy?
Providing a resume which includes projects you have completed, awards you have earned, groups you are apart of and degrees/internships you may already have.
An optional section where you can ask an academic advisor/professor about why you would be a good candidate to participate in the outreach program.
Days prior to the event
Once my application was submitted and deadline passed it wasn't long before we were contacted about our acceptance. We were emailed all the information needed to get us to the event which included student event forms and conference materials. It was comforting to know that Brandy Kresge the Student Outreach Program Coordinator was very responsive and made sure everything was in place once we arrived.
The PMCA Annual Conference
Finally, we are here! Everything I will talk about is in chronological order to help with your experience.
If you would like to skip the reading. Below is a video summary of the whole event!
Day 1
SOP Breakfast- Students and Mentors
This welcome breakfast was a brief get together where students and mentors were able to meet each other prior to the conference starting. It was a great opportunity to get the nervousness out that you may experience in a social setting. As well, you were better introduced to the up-coming events of the week and the growth/success of the program.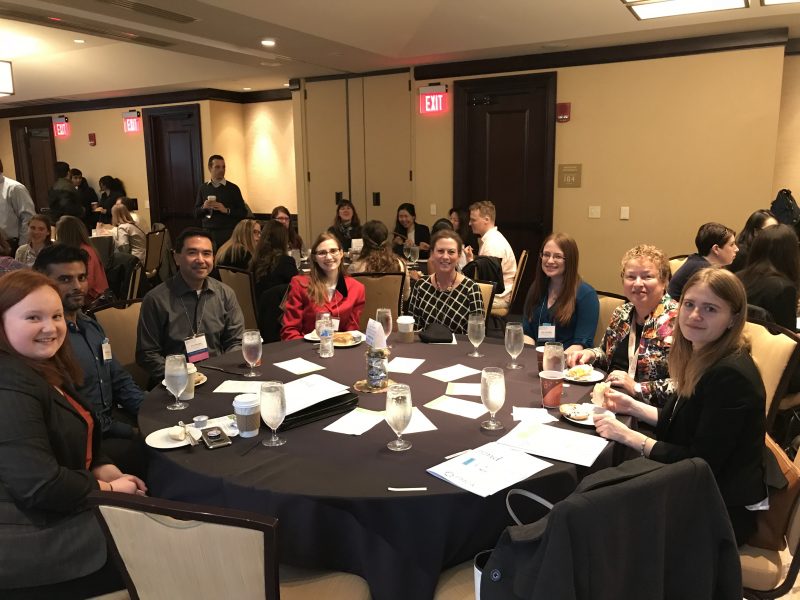 Basics and Beyond Seminar- Making Chocolate Work for You!
After the student breakfast we moved over to the next room to sit through a half-day's worth of technical sessions. These presentations were for all levels of education no matter if you were new to food science or a master there was something for everyone. The talks which followed were:
PMCA Student Outreach Committee Update by Carly Meck, R&D Scientist, Blommer Chocolate Company
Selecting the Right Coating by Randy Hofberger, Consultant, R&D Candy Consultants LLC
Enrobing- Because Everything's Better Covered in Chocolate by Laurent Besin, Director of Technical Services, Barry Callebaut
Discovering Chocolate Moulding- Ann Brinkerhoff, Master Chocolatier, The Hershey Company
Chocolate Goes Snacking- Thalia Hohenthal, Sr. Scientist, Research and Development, Guittard Chocolate Company
Student Breakout Session – Plant Tour (not available every year)
The next amazing experience during PMCA was attending a plant tour of an in-production chocolate factory. On this day the plant was coating pretzels with chocolate, so I was able to see the tempering process on a large-scale manufacturing process.  It was a unique opportunity to ask questions and listen to what others find interesting in chocolate manufacturing.
Supplier Exhibit
Once we traveled back from the chocolate factory, we had the opportunity to attend the PMCA supplier exhibit. The suppliers exhibit had many major industry leaders in the confectionery industry such as Blommer Chocolate Company and Cargill Cocoa & Chocolate. Unfortunately, I didn't get to experience the full show because I was tired from the long car ride and the commotions of the fun day.
Monday Evening Mentor Dinner
Throughout this entire process I was paired with a mentor who was a well-esteemed professional in the industry. My mentor was the Sr. Technical Service Manager for Cargill Cocoa & Chocolate.  She was responsible for supporting the technical and innovation needs of strategic and national accounts for the company. However, her resume behind her is also long and she was just a fountain of knowledge and I could ask many questions.
We were treated to dinner by our mentors on Monday evening. My mentor was good friends with some of the other mentors so we along with the other students went out as a group. This was even better because I was able to ask other questions to other types of professionals. The other mentors were into marketing and account management.
This was the most memorable part of the whole conference for me. Dinner was a laid-back environment which took away the stresses you experience at traditional networking events.
Day 2
Morning Technical Session.
More technical knowledge through presentations! The morning sessions were:
PMCA Membership & Marketing Committee Update by Mark Freeman, Vice President of Sales, Shank's Extracts
NCA Policy & Regulatory Update 2018 by Laura Shumow, Vice President, Scientific and Regulatory Affairs, National Confectioners Association
Snack Bar Technology by Stan Andrews Ph.D., Research Applications Scientist, Archer Daniels Midland Company (ADM)
Bridging the Nutrition Gap in Confectionery with Protein by Akshay Arora, Business Scientist Global Protein Development, Ingredion, Inc.
Caramel Troubleshooting by Mark Heim, Consultant, R Mark Heim Confectionery Consulting
Student Q&A Luncheon & Breakout Session
We were then invited to attend a special student and mentor only lunch and breakout session. During our Q&A Luncheon we heard from various industry professionals both new to the industry and seasoned professionals on their experiences getting into the industry. We were able to ask them questions during this time. This year's breakout session topic was Navigating the Confectionery Industry where we learned about the resources available to us for individuals looking to stay in the confectionery industry.
Leading this breakout session was Eric Schmoyer, R&D Project Manager at Barry Callebaut. He talked about how we could get more involved with various confectionery associations including PMCA that could help us as students and that would benefit us as we continue into the industry. If you are interested in watching the video we saw then check it out below:
Afternoon Technical Session.
More technical knowledge through presentations! The afternoon sessions were:
Why an Attorney Should be Part of Your Innovation Team by Lois B. Duquette, Esq., McNees, Wallace & Nurick LLC
Innovation Management by Adrian Timms, Consultant, ATimms Consulting LLC & TechInfusers LLC
Research Committee Update by Eric Schmoyer, R&D Project Manager, Barry Callebaut
Featured Research: Effects of Alkalization & Roasting on Free & Bound Phenolic Compounds on Cocoa Nibs & Shells by Qiaoqiao Dai, Callisons, The Pennsylvania State Allen Allured Fellowship recipient
5 Risks to Your Food Fraud Program by Gary Smith, Director, Eurofins Food Safety Systems
FCIA Dives Into Consumer Perception of Fine Chocolate by Karen Bryant, Consultant, Executive Director, Fine Chocolate Industry Association (FCIA)
Tuesday Evening Dinner Program
After the technical sessions we were given a break to go back to hotel and prepare for the Tuesday Evening Dinner Program. When I attended the event I did not know what to expect and this just added to the experience.
Prior to the Tuesday Evening Dinner attendees were treated to a sweet display from 14 different artisan chocolate companies from the Fine Chocolate Industry Association. There I was able to try chocolates around the world! My personal favourite was Venezuelan.
The dinner was a formal event and allowed attendees to sit where there was room at the table. This was another great opportunity to connect with individuals from a wide variety of fields. My conversations were delightful and I greatly enjoyed the food.
However, there was more to the dinner than simply good conversation and food. The dinner program was used to honor those that participated in making the conference a success from the speakers, sponsors, candy donors and of course attendees to the conference committee members, and volunteers that setup the conference each year. In addition, various awards given out during the evening.
we were also treated to a one of a kind event by Chef Peter Greweling of The Culinary Institute of America. His Dinner Presentation on Chocolate Geodes: Dazzling & Delicious invited attendees to come on stage and break open Chocolate Geodes that were created specifically for this dinner program. At the end of the evening all the attendees were given the infamous PMCA Candy Bag which is filled with goodies graciously donated by PMCA Member Companies.
Day 3- Closing Day
Session topics included:
PMCA Education & Learning Committee Update by Peter Jamieson, Lead Food Scientist, Atlas Point Technical Services
Post-Harvest Processing- The Fermentation & Drying of Cocoa by Ray Major, Consultant, RAMajor, LLC
A Step Further in the Roasting Process Evolution by Tobias Lohm ¼ller, Head, Research & Marketing, B ¼hler Group
Mysteries of Conching Revealed by Carly Meck, R&D Scientist, Blommer Chocolate Company
Final Thoughts                 
I recommend every student should apply for the Student Outreach Program because it was one of the memorable experiences of my entire university career. The conference gave me the opportunity to learn, connect and really aided me in my professional development.
After the conference I am highly convinced that a career in confectionery is smart, tasty and will always have different opportunities to grow.
So, has this experience convinced you to apply to be apart of PMCA? If so yay! Check out the link below so that you will not miss out. If you have any questions about my experience, then just email me at veronica@foodgrads.com or you could always DM me on Instagram at FoodGrads_
Oh did I also mention that they give you free candy!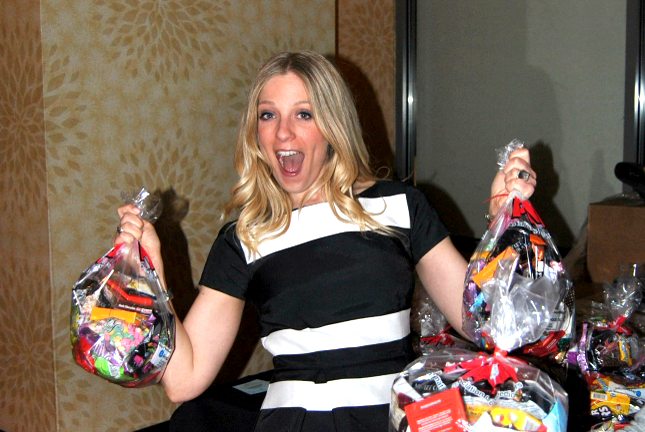 Author: Veronica Hislop Veronica is a recent FoodGrad working as Quality Assurance Technician at a snack food company. She graduated with a Chemistry degree at Ryerson University and has a passion for bringing awareness to sustainability in the food industry. When Veronica is taking a break from her food endeavours you will find her at home reading a great novel and playing with her cats.
---
Subscribe to our newsletter for details on mentorship sessions, workshops, webinars, as well as career and job fairs across Canada and the US!