A New Way to Learn About Careers in Food & Beverage!
Happy, Informative, Ambition, Drive, Loud, Purposeful, Relaxed and most of all FUN! Those are the words that come to mind after last weeks Career Showdown, now I've had time to reflect.
It was sheer pleasure being invited to participate in the first FoodGrads/Taste your Future Career Showdown. This event was surely the start of something revolutionary in our industry. I remember the uncertainty that loomed over my time spent at university with regards to what my next steps would be, what options where there for me and how would I be able to accomplish this.

Unfortunately there was no such platform for students to speak to professionals in the food industry and get answers to these questions. The gratitude and outreach of the students, that were able get some clarity on their future, at this event is proof of how much of a positive impact this event had. I believe this is just the beginning!

–Garvin Maharaj, Director QA, Italpasta
FoodGrads and Taste Your Future are changing the way to learn about careers in the Food & Beverage sector.  Information sharing, networking and informality were the key components to this first of its kind event.
An opportunity for students and recent graduates to mix with Food & Beverage industry professionals.  Many have only just started their journey in the sector themselves, but have a wealth of knowledge, information and advice to share.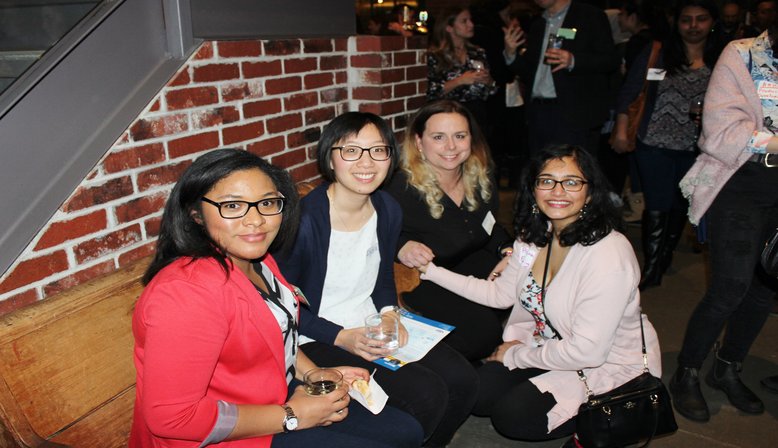 I attended the Career Showdown organised by FoodGrads and TYF. What a great event! The casual atmosphere of Steam Whistle Brewery lent itself well to easy-going and approachable conversations with both students and other professionals. If you're a professional in the industry reading this, I'd encourage you to attend the next FoodGrads event. It should be considered a crime not to share all the wisdom you have!

Whether your just starting your career or you've been working for a while, you have valuable experience that could really help someone else. If you're a student, recent grad or someone who's interested in the Food Industry reading then I'd also urge you to come to the next event. I can't tell you how relieved you'll be to have those burning questions answered. I was able to have some great conversations with undergrad and grad students about working in the Food Industry and getting started. I'm looking forward to the next event!

–Faith Baxter, Product Developer, Dare Foods
We were overwhelmed by the attendance on such a miserable, icy cold evening–and the fact that so many did show up is a testament to how important this type of event is (or just that they will risk life and limb for beer and finger foods!! LOL)
It was inspired by an evening at Guelph University when I asked Pete and Morgan to join me to speak with the Food Science club.  The feedback was…. 'this was great, can you do it on a larger scale (with beer/wine)?!?!"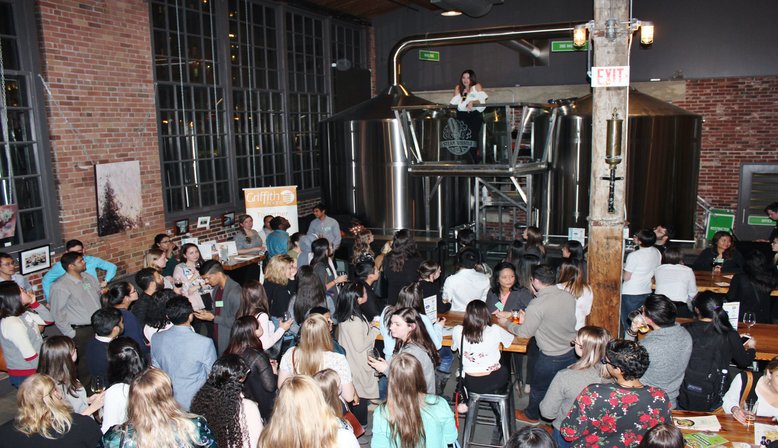 So we did!
The mixer was a great opportunity to reassure students and recent grads that there is a bright future ahead. I enjoyed sharing my experiences, noting they have the exact same questions I had 10 years ago. Remember, things always work out in the end as long as you believe in yourself. In the meantime, use FoodGrads to network with industry to get a step ahead. Oh, and study hard :)! – Marin Pavlic, FSQA Manager, MLF
Pro's in Sales/Marketing, Product Development, QA and Food safety, Communications and PR, HR and Operations/Supply Chain joined us, at least 30 in total as well as our brilliant sponsors.
This event was the first of it's kind in the food industry, and is an absolute benefit to all food science or culinary arts students thinking of starting in the food industry. It will provide them with the much needed industry perspective lacking in their classrooms."— Joy Morshed, Product Developer, High Liner Foods
We hope next year will be bigger and better!  If you were there and would like to make a suggestion for next year or leave a comment, please do!
Final word.  Veronica, Yenci and Jonathan, our Campus Ambassadors and complete rock stars MC'd the event and made sure the evening ran smoothly.  Without their help and support we couldn't have done it.  THANK YOU!!!!
Also, thank you Amanda Cameron for the amazing photo's 🙂
---
Subscribe to our newsletter for details on mentorship sessions, workshops, webinars, as well as career and job fairs across Canada and the US!