What Making a Podcast Taught Me About Knowledge Sharing
From a young age, I always knew that I wanted to work in
food. Growing up and working on dairy farms gave me a great appreciation for
the hard work that goes into producing the great food Canada has to offer.
That desire led me to the University of Guelph, where I just
entered the third year of my undergraduate degree in agricultural science with
a minor in international development.
The more involved I became with agriculture, the more I
realized how intricate the industry is.
Knowing how many misconceptions there are, it became a goal of mine to find a way to share the why and how of Canada's food systems.
In a world where information is so readily available, misinformation is prevalent. Misinformation leads to misconceptions, and when misconception becomes the general census, it becomes the greatest thief of progress. But, sharing knowledge based in fact can start a conversation that moves us forward.
Misinformation leads to misconceptions, and when misconception becomes the general census, it becomes the greatest thief of progress
I am a big fan of podcasts, and I came up with the idea to make a podcast that addresses some of the more complex issues and feats of progress in agriculture.
I wanted to present information in a way that everyone could understand and access accurate information. I thought, who better to address these issues than the experts doing research on it every day. And I was mingling with these experts all the time at the University of Guelph.
With a lot of luck and a little bit of persistence I managed
to land a communications internship at the Ontario Agricultural College of the
University. My big project was creating a podcast.
The podcast is called The Why & How; the primary goal of
the show is to share research and address issues and topics in agriculture,
food, and the environment. The goal is to share innovative research being
conducted at the College in a casual and fun way. 
 So far, I've learned some key takeaways, which have reinforced how best to share the why and how.
Go to the experts
The vast amount of knowledge that university researchers have is impressive. The work that they're doing and how it represents the continually evolving and progressing for more efficient and sustainable food systems is inspiring. These are the experts that are going to help shape a better tomorrow and its an honour to help showcase their knowledge. It's important to help them share out their research with as many people as possible.
There are no stupid questions
Knowledge extension is most effective when the listeners are active. What you might think is a trivial question could be a valuable question for your audience. People come from  different backgrounds and with that comes varying levels of experience and understanding, taking all questions seriously is critical.
The answer is in the grey Issues in agriculture, food, and the environment are hardly ever black and white. There's no clear right or wrong. Pretty much any issue can be viewed as a game of trade-offs; both sides have benefits and downfalls. Something valuable that I hope the podcast can teach listeners is that the best answer often sits somewhere in the middle.
In the podcast, I interview graduate students and university faculty. This has allowed me to build many connections and further my knowledge and continue developing my passion for food. The experience has made me a better advocate and communicator. Plus, I now know so many fun new facts!
Knowledge extension goes beyond the classroom or the lab, and a podcast is just one way to share and extend knowledge. You don't need to be an expert to share information and start thoughtful conversations. You can even be a B- undergraduate student with a little bit of drive and a whole lot of passion!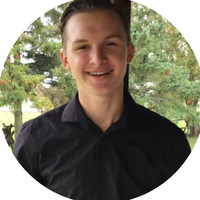 Check out the podcast at: https://www.uoguelph.ca/oac/about/why-how-podcast
We'll be posting three new episodes each month.
Author: Josh Moran
---
Subscribe to our newsletter for details on mentorship sessions, workshops, webinars, as well as career and job fairs across Canada and the US!