What's a student to do? – Part 2
Read part 1 of "What's a student to do"
What is a student to do?
We mastered old skill sets and taught ourselves new ones.
We pushed ourselves past old fears and found new things to be frightened of.
We followed dreams that had been put on hold; what better time to reach a personal best.
We questioned ourselves and the choices we have made; wondering if we will ever get where we plan to go.
We realize where our priorities lay, balancing work, family, and personal growth.
We went home and hugged our families a little longer and a little tighter
We found work. We lived in new cities. We found comfort and joy. We created new homes. We pushed boundaries. We taught the new normal and why it must be the way it is; at least for now.
We dealt with tragic loss. We managed mental health. We took care of our communities. We raised kids.
We ran groceries to those who needed them. We over washed our hands.
We grew gardens, made bread, and fermented all sorts.
We protected our vulnerable and we were a little selfish at times too.
The world needed a HACCP plan and we were the ones able to teach them how.
It wasn't the big companies that we effected; it was our neighbours, our friends; our family; the local shop owners. All while we closed our own business; put our own goals on hold and simply held the world's hand when it needed it the most.
We were the voice of logic when the world was scared; when we didn't know what to do next either.
The environment we choose to work in may change, yet an ongoing passion to improve the world will always remain.
Leaders are not made overnight. We are cut from a unique cloth, resistant to damage.
We flex, We twist, We bend, and We burn.
We learn. We rebuild. We adapt.
We rise from the ashes.
We learned we are capable of many things
We remembered that it's a journey not a race
And that we're stronger together, even if we are 6 ft apart.
Author: Michelle Lang (Paxton)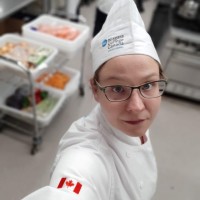 ---
Subscribe to our newsletter for details on mentorship sessions, workshops, webinars, as well as career and job fairs across Canada and the US!