Careers in the Wine Industry
Have you ever thought about the amount of people it takes to get a glass of wine into your hands?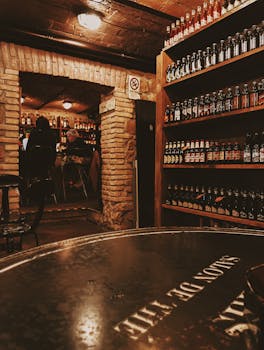 There are the tasting room staff who have mastered the knowledge of every bottled wine in inventory. There are the people who work behind the scenes, bottling, corking and capping each bottle. Not to mention the extensive list of people who grow the grapes, check the quality and market the product.   
If you are looking for a stable career in the food and beverage industry with a good sense of job security I highly suggest you start looking in the direction of the wine industry.
How do I know it is a stable industry?
Let's look at the numbers in the Canadian Wine Industry as reported in The Economic Impact of the Wine and Grape Industry in Canada, 2015:
Canadian wine industry production has an annual national economic impact of $9 billion
Wine-related tourism welcomes more than 7 million visitors each year, generating more than $1.5 billion annually in tourism revenue and employment.
The wine and grape industry is responsible for more than 37,000 jobs in Canada from manufacturing, agriculture, tourism, transportation, research, restaurants and retail.
For every $1 spent on Canadian wine sold in Canada, $3.42 in Gross Domestic Product (GDP) is generated across the country.
This sounds like pretty good money generation doesn't it?
Now that you know about the industry let's look at you. Why should YOU choose a job in the wine industry?
1. You have many job options
One of the beautiful things about the food and beverage industry is that once you are in you are in. In the wine industry there are many options which allow you to change careers all together. You could start off as a wine cellar hand and then work your way to be a wine maker. Alternatively, if you work hard enough you can become a sommelier. Some people even start off in a marketing position and decide to shift their direction to work on the vineyard.
2.There is so much to learn about
The wine industry is so vast meaning there is a lot of knowledge which can be gained.  Working in the wine industry you begin to learn about how small changes in the environment change the taste of a grape. Subtle changes like the vessel used to store wine can also affect the flavour of a wine. You can learn a lot in this industry even if you don't have a formal education. However, the fact that you can obtain a degree in wine making can attest to the amount you can learn.
3. You will meet other people passionate about the industry
Although there are many passionate people in the food industry this is especially true in the wine industry. Many wineries are family ran businesses who genuinely love what they do. It is a rewarding experience because you get to meet people from around the world.  People in this industry do not find working on a vineyard 'work' but a lifestyle.
What jobs are available to me?
There a lot of options available for someone interested in working in the wine industry. These are just a few examples in the vast number of possible jobs.
Cellar Workers/ Harvest Help- If you are someone who likes to work with your hands then this is the perfect job for you! Harvest hands are responsible for supporting the Cellarmaster with production activities through crush, fermentation, clarification, aging, blending, and bottling. It is a great opportunity for individuals to learn what goes on behind the scenes in winemaking.
Distributors – Once a wine is made it needs to be distributed to restaurants, hotels, retail stores and other places consumers can purchase it. hands of the industries that sell them to consumer's think restaurants, hotels and retail shops. A distributers job is to plan, direct and coordinate the distribution of a product or service to a customer. This job is ideal for individuals that have wine knowledge, like to travel (often by car, around one's own region) and employ excellent analytic and negotiating skills find success in this field.
Sommelier- If you go to a high-end restaurant you will likely come across a professional who pairs wine with food. Sommeliers are responsible for providing customers with wine pairing recommendations based on patrons taste and budget parameters. People with strong listening skills, service orientation and social perceptiveness would make ideal sommeliers.
Quality Control/ Quality Assurance- The cornerstone of the food industry. Quality control technicians ensure that every batch of wine is not only safe to drink but matches the quality in the mind of the winemaker. People who enjoy working on a small team, have an eye for detail, are critical thinkers and can work with applicable instruments and methodology will be successful in this aspect of winemaking.
Marketer- There are so many kinds of wine in the supermarket. For vineyards to differentiate their product they need to have individuals who can properly market their products. Marketers create marketing campaigns, reach out to new/existing clients, develop social media assistance and provide general assistance with a company. This work is ideal for outgoing, creative, organized individuals with an understanding of influence and timeliness.
Store staff- The last person who touches a bottle of wine before the customer sees it, store staff sell the finished product. There are many individuals who just serve or sell wine for their job. Retail shops need to staff evening or weekend tasting events and restaurants hire servers and bartenders who can make wine recommendations. Individuals need to have strong customer service skills, ability to multitask and a pleasant demeanor.
Great I have convinced you to enter in the wine industry! Now your asking how do I actually get a job at a vineyard?
Well here are some suggestions to get started
If you are interested in the production of wine then start with a position as a cellar hand. Target a list of wineries in a region you are interested in and take the time to write individualized emails asking them to work into their wine yard. Surprisingly during harvest time it is quite easy to find a job.
If you are interested in a job in sale start your search in wine retail. Find out about local stores which sell wine and ask for a retail job. This is a great opportunity to learn about the characteristics of wine from a consumer standpoint and what is important to them.
Network! Let everyone know that you are interested in the wine industry. You never know who knows who and just talking can eventually lead to a connection.
Earn a wine-based degree. There are many places that offer degrees in winery and viticulture. For example, Niagara College in Ontario, Canada offers a winery and viticulture degree and offers course such as 'Introduction to Wine Chemistry' and 'Vineyard Pruning and Maintenance Practices'
Author: Veronica Hislop Veronica is a recent FoodGrad working as Quality Assurance Technician at a snack food company. She graduated with a Chemistry degree at Ryerson University and has a passion for bringing awareness to sustainability in the food industry. When Veronica is taking a break from her food endeavours you will find her at home reading a great novel and playing with her cats.
---
Subscribe to our newsletter for details on mentorship sessions, workshops, webinars, as well as career and job fairs across Canada and the US!